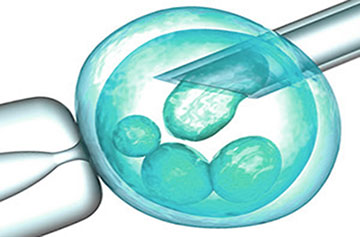 PGD
/
PGS-NGS
Embryo
Diagnostics
Pre-implantation diagnosis / genetic screening )
PGD is a diagnostic method designed for couples who are afraid of the risk of transmitting a genetic disease to the offspring.
The purpose of preimplantation diagnosis is to detect abnormal embryos before they are placed in the uterus. This procedure is an alternative to the recommended prenatal diagnosis of genetically loaded couples who want a healthy baby. PGD can reduce the risk of having to make difficult decisions about the possible termination of pregnancy in case of diagnosing a genetic burden in developing fetus. Preimplantation diagnosis is a laboratory procedure that allows to assess the genetic material of the egg before fertilisation or embryo before it is transferred to the uterus. It is only feasible in conjunction with assisted reproductive techniques.
Our clinic has major successes in this area, they are a full member of ESHRE PGD Consortium and the 6th centre in the world in terms of diagnostics performed (over 1000 PGD diagnosis completed by the end of 2011).
If you decide to go ahead with Pre-implantation genetic diagnostics/screening, your Eggscursion consultant will explain the ins and outs of this procedure with you.