Donor
Program
Information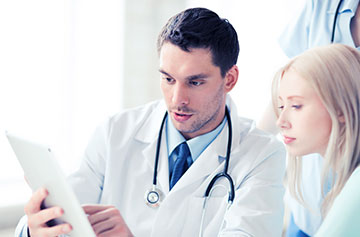 In the donation process a young and healthy donor gives her cells obtained from a single stimulated cycle and must go through a very strict qualification process.
Interviews are conducted in detail regarding her family medical history, the candidate is examined by a doctor, undergoes a series of laboratory tests, completes psychological tests, and participates in a psychological consultation.
Her overall health is assessed with particular emphasis on gynecological problems (pelvic exam, ultrasound, cytology). Series of laboratory tests are performed such as: blood group and Rh factor, biochemical examinations, morphology, and testing for infectious diseases such as hepatitis B, C, gonorrhea, syphilis, HIV, and genetic studies such as karyotype or for cystic fibrosis. Medical and genetic consultants as well as a psychologist analyses the information obtained by interview, physical examination and additional tests in order to pass the donor for the donation process. Donors must be aged between 18 and 32 years of age to qualify for the program.
The whole process is conducted in accordance with standards of international organisations dealing with assisted reproduction and embryology (including ASRM, ESHRE). The European Genetic Egg and Semen Bank applies state-of-the-art IT solutions ensuring the anonymousness of donors and supervision of the donation process.
Links
European Society of Human Reproduction and Embryology
The American Society for Reproductive Medicine